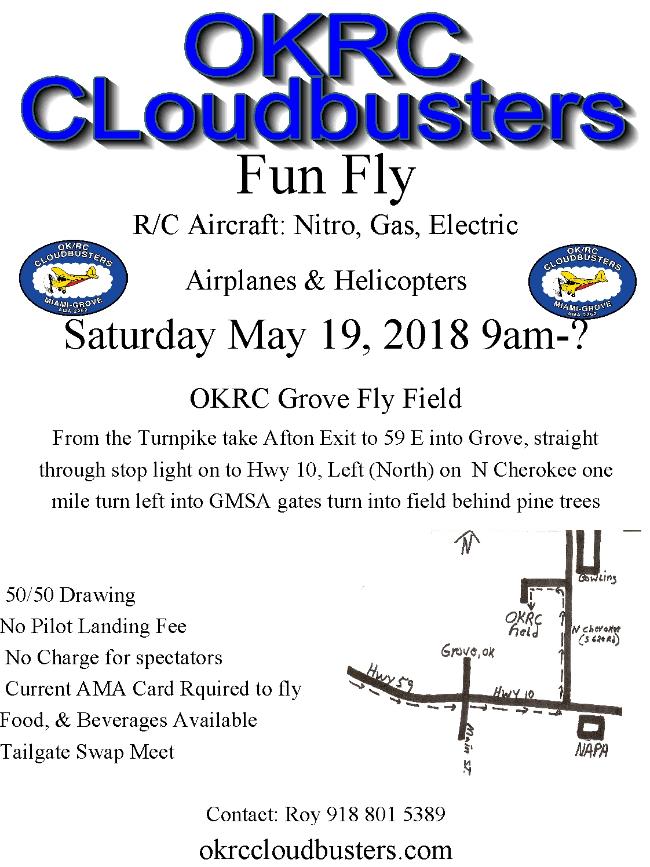 The Spring River RC Fun Fly
Saturday May 19th, 9:00 Rain or Shine
$5 landing fee with chance to win one of two pilot prizes (first ticket gets choice, second ticket gets the one left) $5 all you can eat lunch, Raffle for Brand New Horizon Eflight Sport Cub RTF with Safe!
Two Ultimate pilot prizes. A Seagull Models 90-120 size Ultimate Biplane (slightly used but never wrecked) and a Sig 45 size Ultimate Biplane (used with some damage, but it still could be a cool plane) Lunch will be hot dogs, chili, Frito pie, and drinks.
Bring your items for swap and sale. I'll be bringing my wallet to find bargains.
Please come out and enjoy a fun day of friends, food, and flying!
Spring River RC Club is located at Highway 96 and River Street in Carthage, MO
OK/RC Fly-Ins are open to club members and pilots outside the club with current AMA membership the weekly indoor flying is open to the public, Spectators are welcome at all events!, see you there!